The mission of the World Kindness Movement is to inspire Individuals, Families, Academia, Corporates and Communities towards greater kindness and ultimately to connect nations to create a kinder world.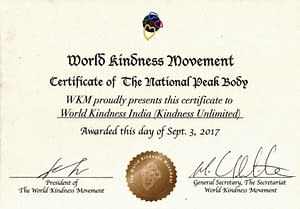 World Kindness INDIA received independent international endorsement as the Peak National Kindness Body by the World Kindness Movement.
The World Kindness Movement is the peak global body and international non-government organization with no religious or political affiliation. Its chief objective is to foster goodwill among the broad community – local, national and international – by way of kindness, and in so doing, create greater understanding and co-operation between all people and all nations throughout the world.